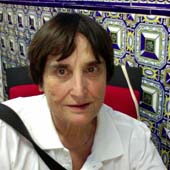 Hello!
If you want to study
Spanish
come to
Taronja
! It has many advantages. It's in
Valencia
, beautiful city with diverse architecture from Roman times up to today. You will find places for every desire. Museums, gardens and parks. But most important is the school team that cares about you, answers all questions and organizes various activities. The
Spanish teachers
are all very nice and teach grammar via different topics so you never get bored! Nobody kills you if you make a mistake! For me «super»! You're running into
Spanish students
from countries all around the world. Accommodation: I was lucky: my host took care of me like I was a baby (we always drank!). All this accompanied by the sun (normaly!). In addition, a 20 minute bus or subway ride and you are at the beach… ¡ Viva Taronja! ¡Viva Valencia!
Tags: Spanish course in Spain, Spanish course in Valencia, Spanish school in Valencia