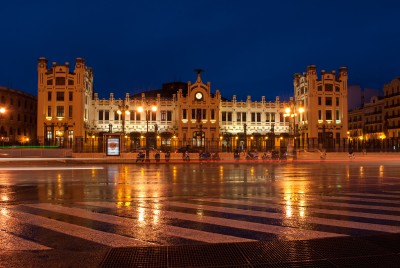 Valencia is such a good city. The teachers are so talented and nice. The food was delicious. The beach is beautiful. The weather was nice during our stay. We liked the schedule and the activities. Peñiscola y Montanejos…Awesome! The families were really friendly, generous and open-minded. Chef Nando…..So cool!
Juliette y Mánuel
Thank you for everything. The teachers are great. The food, for example the «paellas» and «tortillas», was delicious. The activities were brilliant. We learned a lot thanks to these activities (Kahoot, Lyrics,…). The schedule was adapted to our needs. The paella was really delicious! The cook was really funny. The cooking class was magnificent. We visited many interesting places: Thermal waters, Peñiscola and other really cool villages.
Max y Aïda
The classes in Taronja were really funny. We learned many new words and ways to improve our conversation skills. We treated different subjects. We also did activities to learn more things (Awesome!). We liked the rotating schedule where we switched between morning and afternoon classes. We liked the activities, especially Peñiscola and Montanejos. The cooking class with Chef Nando was hilarious and we enjoyed the food. Thank you for everything!
Clémence y Jennifer
We enjoyed our stay in Valencia. We liked to visit the city and nearby villages (peñiscola, Sagunto,…). The city of Valencia has many districts and there is always something to discover.
Samuel, Félix y Milie
Nos ha gustado la experiencia en Valencia. Los profesores eran dinámicos y los asuntos eran interesantes pero nos hubiera gustado que todas las clases fueran por la mañana (Menos cansado) Los guías eran muy buenos y nos dijeron cosas interesantes sobre la ciudad. Las actividades eran diversificadas y divertidas. Deberíais hablar del sitio (Web) LoveValencia.
We really liked our experience in Valencia. The teachers were dynamic and the subjects were interesting. However, we would have preferred to have all of our classes in the mornings (Less tired). The guides were great and they told us interesting things about the city. The activities were divers and funny. You should have told us about the web page LoveValencia.
Alizée, Emma y Sarah