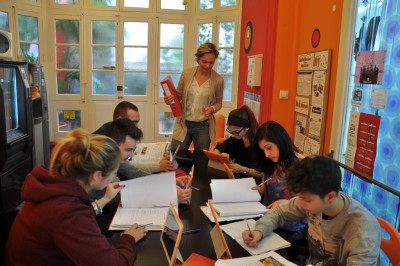 Enrico Fermi Group, Italy
DANIELE, NICOLÓ, NICCOLÓ, SOFIA, CLARISSA, REBECCA: Hello! We're the Enrico F. group, we're three boys and three girls: Daniele, Nicoló, Niccoló, Sofia, Clarissa and Rebecca. During our stay here in Taronja School we have learned a lot: Spanish, traditions, culture and new subjects like marketing, that we haven´t in school. This school is very different from the other ones, here the classes are interactive, and technological. As for our internship here, we can say that we loved it, for it hasn't been boring and it was very dynamic. We also studied theory, but in a different way. Here they encourage you to study and learn more and more. As for the school design we can say that it's very welcoming and fun, all the classes are decorated differently and transmit happiness. Here in Taronja School each day is a party: cooking classes, Spanish classes and happy and nice teachers. We had lovely host families and we're happy we got to know such nice people like them, and for this reason we don't want to go back home.
Here you can see how fast our interns worked!
Tags: Cursos de español en España, Spanish course in Valencia, Spanish school in Valencia, Taronja Spanish school