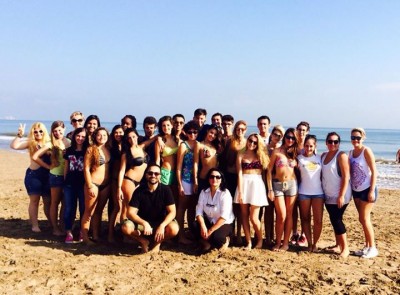 Gadda Rosselli Group, Italy
ILARIA AND GIORGIA: We loved this week in Taronja. We learned a lot about spanish culture and language. Our teachers and our family were very kind, our family treated us as if we were their children. We visited different places and we liked them all, we hope to come back to Spain.
CAMILLA, ANNA, ELISA, SILVIA E GUGLIELMO: We`re five italian students and we came to Spain to learn spanish. We stayed here from November 4th to November 11th. During this awesome and unforgettable week different spanish families hosted us. They were nice and fun, very kind to us since the first day. Their houses were welcoming and we always felt at home. Valencia is a really nice city, full of open-minded and kind people. We visited many places: the beach, the City of Arts and Sciences, the Oceanographic and the Fallas museum. They vere all interesting and fun. We loved the beach because it reminded us of summer,hot weather and sun, which we are missing in italy. Taronja school taught us many things and we talked about new themes. Teachers were always kind and lovely. It was a tiring week but we went back home really happy.
ROMANO AND LORENZO: We had a lot of  fun in this school, both the family and the school treated us very well. We visited a lot of museums and we also went to the stadium. The teachers were very kind and I (Romano) liked  Lola´s paella better than Gran chef´s. It was a great experience.
GIULIA, JESSICA, ALESSIA, FIORE, FRANCESCA: Hello, we`re five Italian girls and this is our last day in Valencia. We all would have loved to stay longer: all the families are really kind and they treat us as if we were their children, making us feel at home. The school activities were original and fun. We visited the City of Arts and Sciences, the Fallas museum, the Oceanographic. We also went to the beach, we loved it. We had some free time to go shopping and eat frozenyoghurt. Chef Nando´s paella was delicious and we´ll never forget the tapas we ate. We loved Spain and we hope to come back sometime.
ANDREA, NICOLÒ, AURORA: We spent one week in Taronja school and it was an awesome experience. We did a lot of activities, like going out in the street to ask people about different topics or taking picture of the public transportation. Moreover classes and teachers were a lot of fun and we loved them. All the families were kind and generous and we liked Nando´s cooking class a lot. We`ll never forget you.
BOMNURI, CLAUDIA, FRANCESCA: Our experience in Taronja school has been unforgettable. During this week  we have learned so much, thanks to the teachers who taught us in a fun way many interesting things that we didn´t know. The trips were wonderful, we loved visiting the city and get to know new places. We loved the activities too beacuse they were different and we had the chance to know people from Valencia and its culture. We had nice and open-minded teachers, who made us felt at ease in class. It was a magical week, we had a blast!
ELENA, CHIARA, Y CAROLINA: We liked this experience beacuse we improved our spanish, as we talked spanish at school, at home with our guest- families and sometimes in the street. The activities were: eating paella at night, visiting the city, eating churros!, eating ¨tapas¨ and ¨montaditos¨, ¨patatas bravas¨, squid and ¨tortilla¨. We also went to the beach and we had so much fun, we danced salsa at night, we went to the market to eat paella and mussels with chef Nando. Then we visited the City of Arts and Sciences and the Oceanographic, how cool! We went to the Turia gardens and to the Fallas museum as well, we shopped a lot! We had a great time and we think that a week is not enough beacuse people are very nice, kind and happy.
GRUPO LOS DIOCES: We´re italian students: Emanuela, Nicolo`, Andrea and Matteo. We loved this trip, the city of Valencia is beautiful and people are really nice. The teachers are very kind and the activities are fun and useful as they give us the opportunity to speak to spanish people. The trips are awesome, in fact the city is full of historical monuments but at the same time it is modern. The weather is very hot and the day we spent at the beach was wonderful, we could bath as well. Spanish food is very good, the paella was great and Chef Nando was very nice. It was a fantastic experience and Spain will always be in our hearts.
SARA, SOFIA, IVANA, ANGELICA: We`re Sara, Ivana, Angelica and Sofia, we`re 16 years old and we`re studying spanish. We arrived in Valencia on Sunday and we found a wonderful city. Everything is perfect: our family and the teachers are kind and nice, the school is perfectly organized and the activities are very interesting. We felt as if we were at home, here in Spain people are nice, always smiling and happy and we always had sunny weather. Valencia is a beautiful and peaceful city, here you can eat the best paella ( especially chef Nando`s!!) We hope to come back soon, kisses!!
ANITA, GIULIA, ELISA, MARGHERITA E MARIACHIARA:
Hi guys! We`re Anita, Giulia, Elisa, Margherita and Maria Chiara. We`re italian students and we came to Valencia to improve our spanish. We visited the city and we fell in love with it. We like it because it`s always hot and sunny. The sea makes us happy and joyous as well. People are very nice and kind, partying every day. We loved eating tapas and dancing salsa. We danced like great dancers. But the best thing about Spain is paella and, with no doubt, the handsome Chef Nando. We spent an awesome week and we would like to say thanks to the kind, gorgeous and fantastic teachers Teresa and Mariajo. Our families welcomed us warmly and made us feel at home. Thank you a lot!!
FRANCESCA, GIORGIA, CHIARA, GIULIA, Y ELISA:
We study spanish and we spent one week here in Valencia. Taronja school is very nice and cool, classes are never boring and the teachers are kind and funny. During this week we participated in many  interesting activities, for example we visited the city centre, the harbor and the moto GP circuit. One day we went to the beach and it was wonderful, we played volleyball and took a lot of pictures. We also had a cooking class with chef Nando, paella was delicious and sangria as well. We went to the City of Artes and Sciences too and the Oceanographic is so cool. This week we had a blast!
LORENZO M., LORENZO V., MARTINA Y GIULIA:
Hello! We`re italian students and we spent one week in Valencia. We went on a lot of trips, but the best was the day at the beach. It was hot and sunny, we played volleyball, but we couldn´t swim. It was chilly almost every day, it was tiring but everything was perfectly organized and exciting. Our families were nice and generous, the food was abundant and delicious: at noon we usually ate a big and tasteful sandwich. We loved paella and the cooking skills of chef Nando. On Saturday we spent the whole day at the City of Arts and Sciences. What we liked the most was the Oceanographic, where we watched a dolphin show. It was a great holiday, we really had a blast.
GIULA, GIORGIA Y CLAUDIA:
We had a blast! Herminia, our host mom, was very kind and extroverted. She treated us as if we were her daughters, not only her guests. The school was awesome, classes were always interesting and fun. The teachers were nice and worked a lot with us. The trips were well organized and we loved the food, paella in particular. It was an unforgettable experience!
ASIA Y MATILDE:
We loved this week in Valencia. The city is really nice and big. We visited the centre, the central market, the Sciences museum, the Hemispheric and the Oceanographic. We went to the Turia gardens, which is a very nice and calm place. We also went to Mestalla stadium to watch Valencia- Athletic Bilbao match. The beach is big and wonderful. We loved the food: paella, churros and hot chocolate, ham and tapas. Our families were very nice and we had a good time with them. They cooked really well and we felt at home. Thank you for everything you did for us. Hugs and kisses.
Tags: Clases de español Taronja, Cursos de español en España, Spanish course in Valencia