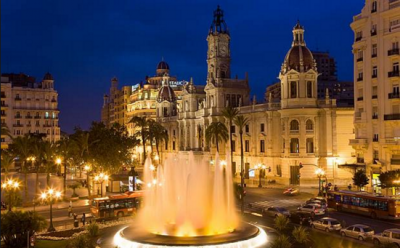 Isabella D'este Tivoli, Italy.
Hi, we're italian. The experience in Valencia was very good and we learn a lot of things with the teachers, that are very nice. We did a lot of interesting activities: we were at the principal station, the market, at the ''casco angtiguo'', at the beach and at the Oceanografico. We also eat typical food of Valencia like ''tapas and paella.'' The city of Valencia is very beautiful, especially for kids. The people was very nice and lovely. We loved this experience and for this we won't come back to Italy.
Elena, Giorgia, Lorenzo,Camilla and Eleonora.
Hi. We live in Italy, near Rome and we come from the linguistic school ''Isabella D'este''.Valencia is a very amazing city, full of history and at the same time interesting for kids. We visited a lot of monuments like ''torre del miguelete, la plaza de l'ayuntamiento and las torres de serrano'' that we particularly liked. Also we tried typical food of the city como ''paella and horchata, (but we prefer italian food!)The experience was beautiful, we learned a lot of things, we have improved our level of Spanish and we have a lot of fun!
Chiara, Ludovica, Giada, Paola, Carolina and Sara.
Our first time in Valencia at the Taronja School was very useful, especially for the conversation. The school was very good and the teachers were very nice and we helped a lot. We want to do a lot of activities in the evening: we liked our free time to go out and do shopping, but activities were a little bit boring, but this week was very funny and we took the opportunity to practice our spanish.
Anonimo.
A wonderful experience! The school was very beautiful and also the teachers were very lovely and nice. Valencia is a very beautiful city and we think that we will come back.
Elisa, Marco, Arianna, Tina.
Taronja school is very beautiful and funny, and teachers were very nice, for this they worked very well with kids. The lessons were very interesting and never boring. The walls of the school are full of color. It was very funny do activities in the Street and talking with spanish people. We would return next year!
Veronica, Silvia, Vanessa and Susanna.
Taronja school was very beautiful. We were never in a bad mood, because we have Pablo and Elisa. Pablo is a teacher very funny and very beautiful: we died laughing every time we see him. Elisa is very beautiful and funny and she likes her job. With them we learned spanish in a different way and we liked so much learn in this school even if was only for a week. We will miss a lot Pablo and Elisa! You're very funny and lovely with us.
Simone, Valentina, Federico, Giorgia, Alessia, Maria Francesca.
Tags: learn Spanish in the Taronja school, Spanish courses in Valencia, spanish school Valencia, Valencia city and Spanish classes