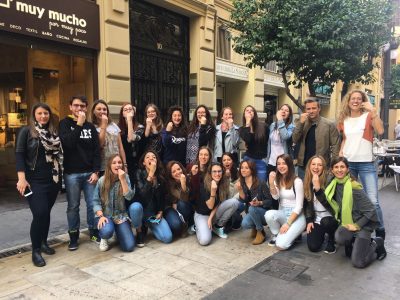 Our trip in Valencia has been a wonderful experience. The school and activities have been very fun and the teachers have been very affectionate and available. Overalli we really liked the city, in particular » the city of arts and science'',  because it is very rare and different from what we have in Italy. The Spanish food as the paella of chef Nando, was very delicious. On the other hand, there is a good balance between activities and free time, so everyone has been able to discover various aspects of the city. Families have welcomed us with care and we would like to return to Valencia in future.
Stefania, Silvia, Sofia, and Camilla.
We liked a lot this experience. We believe that the school Taronja has helped us a lot, as we have discovered more about the Spanish and Valencian culture. Also teachers Antonio and Marisa have been very available and kind. Families have welcomed us very well and as children. The program of activities has not been boring and heavy, but very interesting and fun for discover the city. This trip has enchanted us and for this reason we would like to return and live here in the future very soon. Thanks for everything!
Gaia, Irene, Simone and Federica.
 Our experience at the Taronja school was wonderful. We have a great time here in Valencia. We have visited the main attractions like the Oceanográfic, the northern station and the central market: that's very amazing! Marisa is very kind, friendly and very funny, especially when we went outside to do interviews. Antonio is very handsome, cheerful and funny and his classes were always very funny. With Chef Nando we have learned how to cook the paella and we really enjoyed it. We would all like to go back to Taronja! A kiss.
 Jasmine, Lisa, Federica and Valentina.
Hello! We are Italian girls and this was our first time in Valencia. We had a really amazing time in Taronja: we learned a lot of new things thanks to our kind teachers Marisa and Antonio. We loved the cooking class with chef Nando and his delicious paella. We have enjoyed everything in this city, for its cultural richness and its culinary traditions! We will miss everything! A kiss.
Silvia, Debora, Vanessa and Chiara.
Tags: español y diversión, Spanish course in Valencia, Spanish school in Spain, Spanish school in Valencia, Taronja Spanish school, Valencia city and Spanish classes