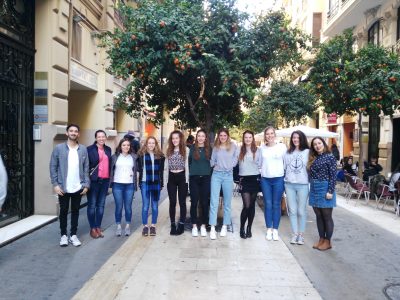 St Catheriene's School, Inglaterra
Hello, our names are Emily, Izzy, Issey and Anne Claire and we are english students.We are 17 and 18 years old and these classes were perfect for us. The morning classes were the perfect mix of learning and fun, with the opportunity to speak with locals and to ask them about the life in Valencia.Our teachers (Manu and Carmina) taught us that «no te comas el coco» and have a great time.We did not only enjoy our morning classes, but also the activities in the evening for example a visit to the beach and to the central market to improve our spanish.All the people in Taronja family are very nice, cool and great, so we would recommend it to all the ages.Taronja is in the center of Valencia, a city with a lot of history and culture, so it is never boring because there is always something to do.Our most important advices are that you have to try Horchata Fresca, eat as much paella as possible and enjoy all the opportunities available.  Thank you so much and see you soon! Kisses.
Emily, Izzy, Issey and Anne Claire
Hello! We enjoyed it so much our trip to Valencia. The classes were very interesting, funny and useful. In addition, the teachers were very funny and enthusiastic. The part that we liked more was the guided tour in the city because the buildings were ancient and different from the one in England. During the cooking class we enjoyed the jokes of Chef Nando and churros were delicious. So cool! On the other side the rice museum was a bit boring, but anyway we would like to come back to Valencia and eat lots of rice! The location of the school is in the city centre and this is very convenient for exploring the touristic things. The families with which we stayed were nice and the houses very pretty. If we come back to Valencia, we will visit Taronja school another time. We would like to say thank you to all the staff, especially to Carmina and Manu. Great!
Imogen, Francesca, Phoebe y Hattie
Tags: Spanish courses in Valencia, taronja school, Taronja school activities, Valencia city and Spanish classes